Trail cameras
Gunning District Landcare has available a number of trail cameras for hire to members. These are Reconyx HC600 Hyperfire HD Covert IR cameras, capable of day and night photography when triggered by movement. See http://www.reconyx.com.au/HC600_HyperFire.php. They are ideal for identifying feral animals and for nature studies. Each camera is equipped with rechargeable batteries, battery chargers and instructions. There is no charge for hiring these cameras, although the hirer must agree to cover the replacement cost of the camera if it is lost or damaged. Contact This email address is being protected from spambots. You need JavaScript enabled to view it..
Tools & Equipment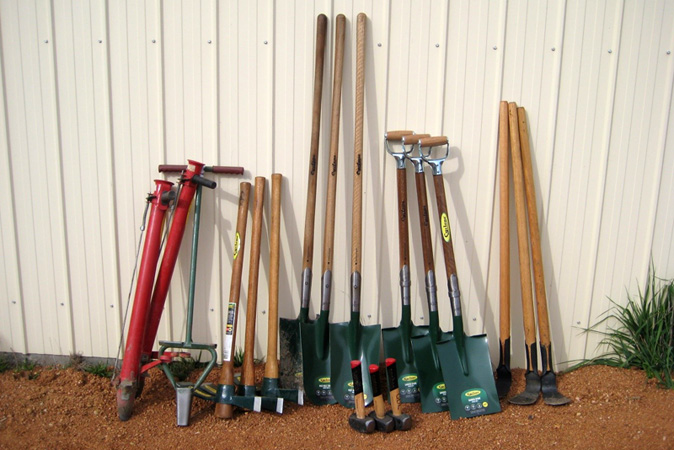 Gunning District Landcare has a range of tools and equipment available to members. Our policy for almost all items is that they are free for use by members on their own projects and for community field days. A $50 deposit, refundable on safe return of items, is required. These items are not available for commercial use. Contact our Equipment Officer, Matthew Streat.
Available tools and equipment include;
Single Tyne Ripper - a tractor attachment used to prepare ground for tree and shrub planting (long rows or single paddock trees). It can also be used to destroy rabbit warrens.
Tractor Drawn Tree Planter – a machine that rips soil and allows operator to drop tube stock into place.
Mounder – used to prepare raised beds for tube stock planting.
Pottiputki Planters – used to plant Hyko and stanadard tube stock. Also excellent for planting riparian plants.
OHP Projector and Screen – used by Gunning District Landcare for presentations. May also, at the discretion of the Equipment Officer, be borrowed by other community organisations.
Hyles Hand Seeder – a tool to direct sow seeds by hand, Suitable for small jobs.
Library Books
Gunning District Landcare has donated a range of excellent resource books to the Gunning Library, related to flora, fauna, soils, Indigenous history, and more. You can see the books that are available in the list here. To find the Gunning Library's opening hours, check here.
Native Plant Suppliers
We are often asked where people can source local native plants so we have collaborated with Yass Area Network to put together this list. Please get in touch if you know of other nurseries that should be included.
Suggested Links
Presentations
Policies
TBA